When you think about Pinterest, photos of clever crafts and prized recipes may come to mind… but the search engine has so much more to offer you and your business. That's right: Pinterest is not just another social media network, it's a visual search engine that can drive loads of valuable traffic to your website and blog.
Just like any other search engine, there are Pinterest-friendly SEO practices to keep in mind when you want to drive traffic to your website that can be done both on your site and on your Pinterest profile. If you want more people to visit your site, you need to make it search engine friendly and you can also check out this Damon Burton's book here for great help! Let's go over some of the top tips to optimize your pinning strategy for the best return.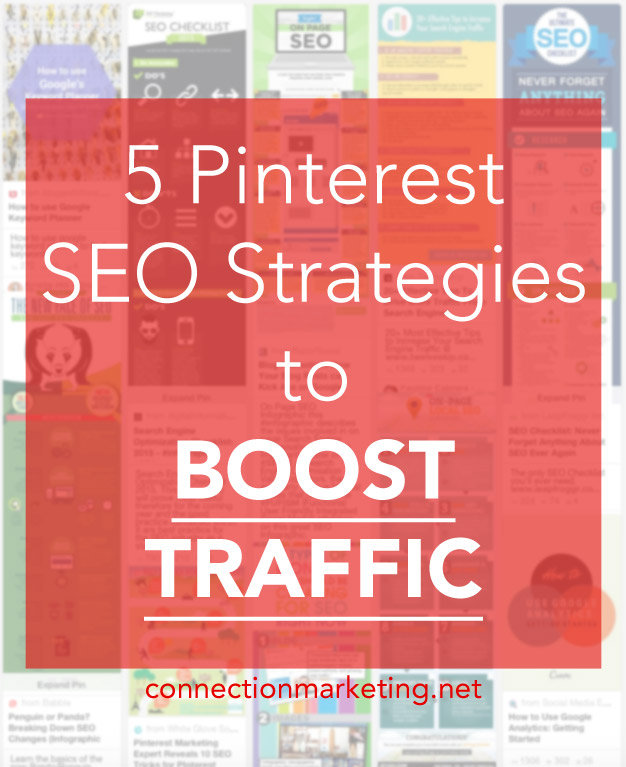 1. Rich Pins
The very first thing—and easiest thing—to do to make your pins stand out and foster more clicks is to set up Rich Pins. Rich Pins automatically add information to your pin depending on the type of site you're linking to. This is very similar to schemas and Google in that they add useful previews to the content such as ratings, product prices, map to business locations, long descriptions and more. Setting up rich pins is as easy as adding some code to your site. Find out more on Pinterest's Rich Pins guide here.
2. Engaging & Keyword Rich Descriptions
Adding several sentences of a page description in your pin will be helpful in catching the eyes of users scrolling through their feeds, and also gives you an opportunity to add in relevant keywords to capture search queries. Using a call to action within the pin description such as "Click through for a free consultation" lets users know what you want out of them and what they get out of exploring your content more.
3. ALT Tags
By default, Pinterest usually takes the ALT tag of an image to use as the description. Coding your images to include the description you want to show up on Pinterest as the ALT tag will make it auto-populate when anybody pins the image straight from your site. Using keyword rich ALT tags is a best practice across all search engines, so this will be a multi-benefit task that can help your rankings.
4. Board Descriptions & About Me
This small time investment can make a big impact in the long run. Don't ignore the description fields for every board you create, as well as your "About Me" section on your profile page. These are both opportunities for indicating important keywords for what your business is about, and the type of content you pin. Include a call to action in your About Me that describes what you offer to users. For your individual board descriptions, feel free to add a block of keywords that describes that collection of photos separated by commas.
5. Activity Affects Rankings
Pinterest feeds favor "power pinners" and put their pins on top—that is, users who are pinning frequently and garner a lot of interaction (repins and likes) from other users. For the best results, pin a mix of your own & related content at least 50 times a day, which can be done with a scheduler or by hand. This can all be done in one sitting, since Pinterest doesn't show your followers pins chronologically so your activity won't flood their feed. Additionally, you can go through old boards and delete pins that have gotten zero engagement. This is a way to trick the algorithm into thinking all of your pins receive at least some interaction.
In today's visually-driven online landscape, Pinterest is growing as one of the most popular ways internet users can find the content they're looking for.  Because of the easy shareability, pins can garner traffic for years after you post them if optimized correctly. It's the newest search engine that you can't afford to ignore, so get started today by hiring an expert website SEO service to start seeing results.