Driving traffic to your site isn't enough today. With so many options available to people, it is important to get window-shoppers to actually convert. Lead forms, phone numbers and a strong sales team are crucial, but what if your site visitors exit without leaving any contact information? This is where retargeting comes in.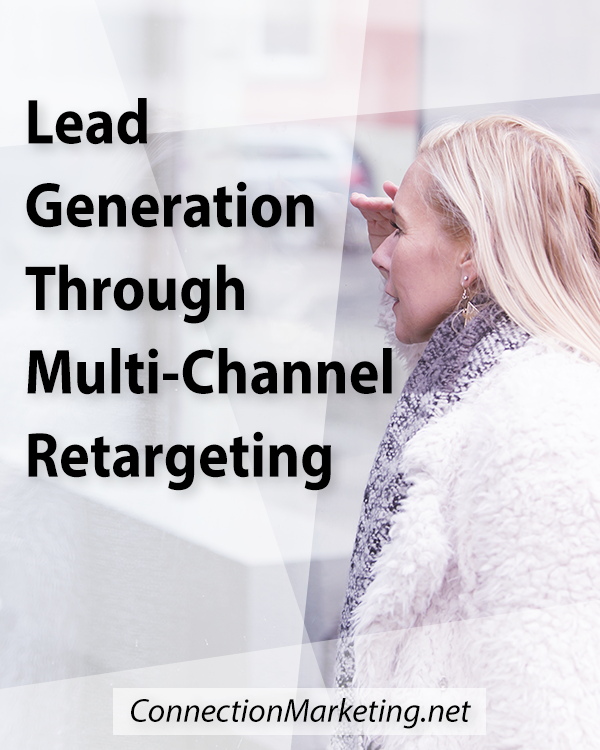 Using a multi-channel retargeting campaign, you can reach these prospects and improve the value of your traffic. When used properly, retargeting can increase effectiveness and return on investment by specifically targeting those who have already shown interest in your company.
When a person visits your site, you can show them a consistent, customized message intended to bring them back to your site and become a lead. This can be done in a few ways:
Web Display Retargeting
With web display retargeting, you are able to reach past visitors visually in locations all around the web. This is a great way to increase brand recognition and remind past visitors to come back and see what you have to offer. When people see your ads with high frequency, there is a higher chance that they will return to your site and contact you for more information.
Social Media Retargeting
This is similar to web display retargeting, but has the personalized touch of showing ads where people are most comfortable: with family and friends. Using Facebook as an example, you can place targeted ads in a visitor's mobile or desktop newsfeed, or on the right column (just under the latest trending news). This way the advertisement is mixed in with other content that they enjoy seeing. With a catchy headline and engaging photo, people will be happy to click your ad and return to your site to learn more.
Email Retargeting
Email retargeting is a useful tool to reach potential leads that change their minds before clicking 'submit' on a contact form. It is possible to send a targeted, automated message to those who type their email address but did not convert. This tool has been very successful in bringing interested visitors back to complete a lead form.
Combining these techniques to show a unified message on a variety of platforms creates multiple opportunities for people to connect with your company. Connection Marketing makes it as easy as possible for potential customers to find their way to your virtual door, boosting your return on investment by ensuring that more of your site traffic results in leads. Our approach puts you where your customer base is and makes the most of every dollar in your marketing budget.
If you want to add value to your site traffic, contact Connection Marketing at info@connectionmarketing, or visit connectionmarketing.net.